Board Fence Installation services in ohio
Call Cornerstone Fencing in Knox county, Ohio today for a free quote for all your board fence installation needs
Board Fence Installation in Knox County, Ohio
Cornerstone Fencing provides beautiful board fence installation services in Ohio and the surrounding area. The good ol' board fence is still by far my personal favorite. I love the design, elegance, and simplicity a board fence brings. It is a piece of art that can't be reduced to a science.
Posts are spaced every eight feet and typically three or four boards run horizontally. Under the seasoned and artistic eye of our professional fence team, it flows smoothly over hills and gently curves around property lines, and is possibly the most profound way to showcase your estate. It draws your guests into your home with a country welcome.
You may decide to leave your fence a natural wood color or paint it a bright and distinguishing white. Or my personal favorite: soak the fence in a waste oil or other natural oils to bring out a deep warm color; almost black. This looks best when your property has a rustic country style.
Whichever you choose, a board fence is one of the greatest assets you can use to enhance your property's value appearance, general feel, and style. Though this type of fence requires more maintenance than a wire fence, I believe if you take pride in your property you will find the extra effort well spent.
– Dannie Miller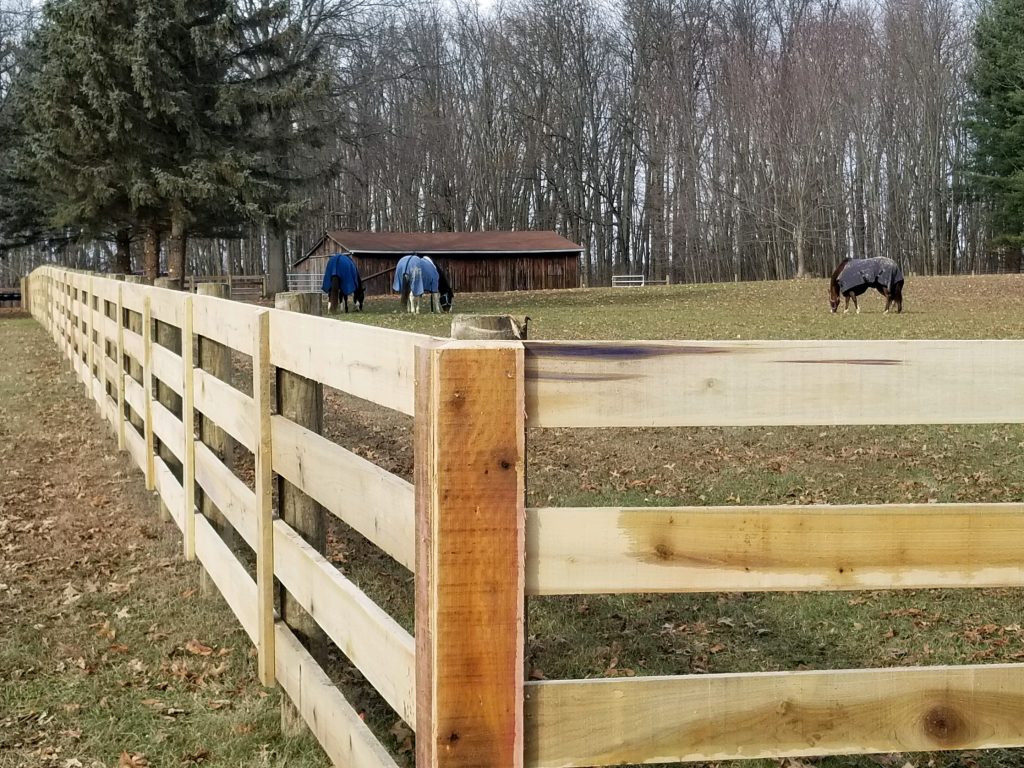 Get your board fence, call us today!
Universally, wood board fencing requires a post spacing of eight feet. The wood boards that are used are 16-feet long and need to span two openings (or stretch across three posts).
Although board fence posts can be either round or square, Cornerstone Fencing only uses round posts because they last longer.
When a board is nailed to a square post there is more surface for the board to contact, creating a moisture trap between the two pieces of wood. That in turn can lead to wood rot, decreasing the longevity of your fence.
Almost all board fences will have either three or four boards that run horizontally along the posts. The four-board fence will be stronger and will cost more per lineal foot then the three-board fence.
At Cornerstone Fencing in Knox county, Ohio, we use two kinds of boards: treated popular and treated yellow pine—both of which have about a 15-year maintenance-free life expectancy.
Board fence is by far most popular for horses but is also used for cattle. To really make the fence useful and keep wear to a minimum, it is important to install a hot wire to keep cattle from pushing against it and to keep horses from eating it.
Southern Yellow Pine Boards
Southern yellow pine boards are a very popular board because it is one of the stronger boards in the pine family. And when treated with the chemical wood preservative chromated copper arsenate, it will last a long time and not warp.
It will also be the most resistant to high acid content areas such as your barn or any other area with lots of manure.
Board Fence Installation for Horses
An attractive and effective way to keep your horses on your property is to have a board fence installed by Cornerstone Fencing.
Board fencing for horses are a very popular option to not only keep horses on your property, but to enhance the look and value of your home.
Choose from many different types of wood that will compliment your acreage. Our board fencing for horses typically have 15 years of service before maintenance may be needed.
With proper maintenance, board fences for horses can last a lifetime. Board fences are viewed from a horse's perspective as a solid barrier that they are not likely to challenge.
Posts
Length: 7'6″ feet
Diameter: 5 inches exact round diameter
Southern yellow pine (CCA) pressure treated
Spaced at 8 feet centers
Boards
Treated Popular (1″x6″ board)
Southern yellow pine pressure treated (1″x 6" board)
Installing board fences for horses is a task that has been performed by Cornerstone Fencing hundreds of times over the years. We've installed wood board fences on every type of terrain and through or around all sorts of obstacles.
If your horse fence is installed incorrectly, you may not even realize it until the fence begins to fail long before it should. At Cornerstone Fencing, our professional wood board fence installation team will finish the job on time and within budget.
Contact Us today for a free Board fence installation consultation

Cornerstone Fencing board fence installation services in Ohio: Knox county and all of Mt. Vernon, Licking county including Newark, Pataskala and Johnstown, Muskingum county and all of Zanesville, Coshocton county, Morrow county including all of Mt. Gilead, Delaware county, and Tuscarawas county including all of New Philadelphia.